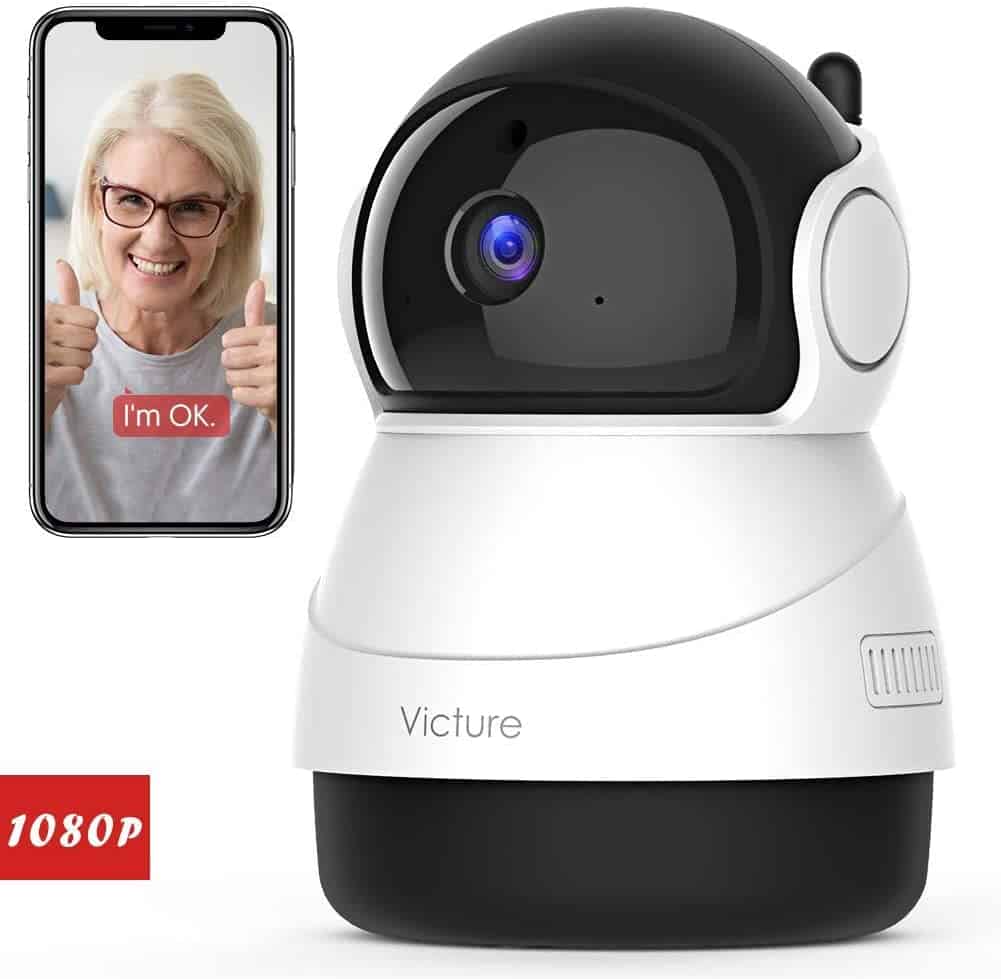 We are not going to just look at the best video baby monitor, but we are going to look at the best video baby monitor that cost no more than £25. (at the time of writing this)
Having a new baby is costly, and some people are lucky that they inherit a lot of things they need, but one thing that tends not to be something that gets inherited is a video baby monitor. These baby monitors quickly become obsolete due to improvements in technology.
Just two and a half years ago, we were looking for our first video baby monitor ourselves, and I was shocked at the prices of them. Having to spend the amount of money we did on a video baby monitor still makes me twitch to this day. However, I could not live without a video baby monitor now.
Why is a video baby monitor essential?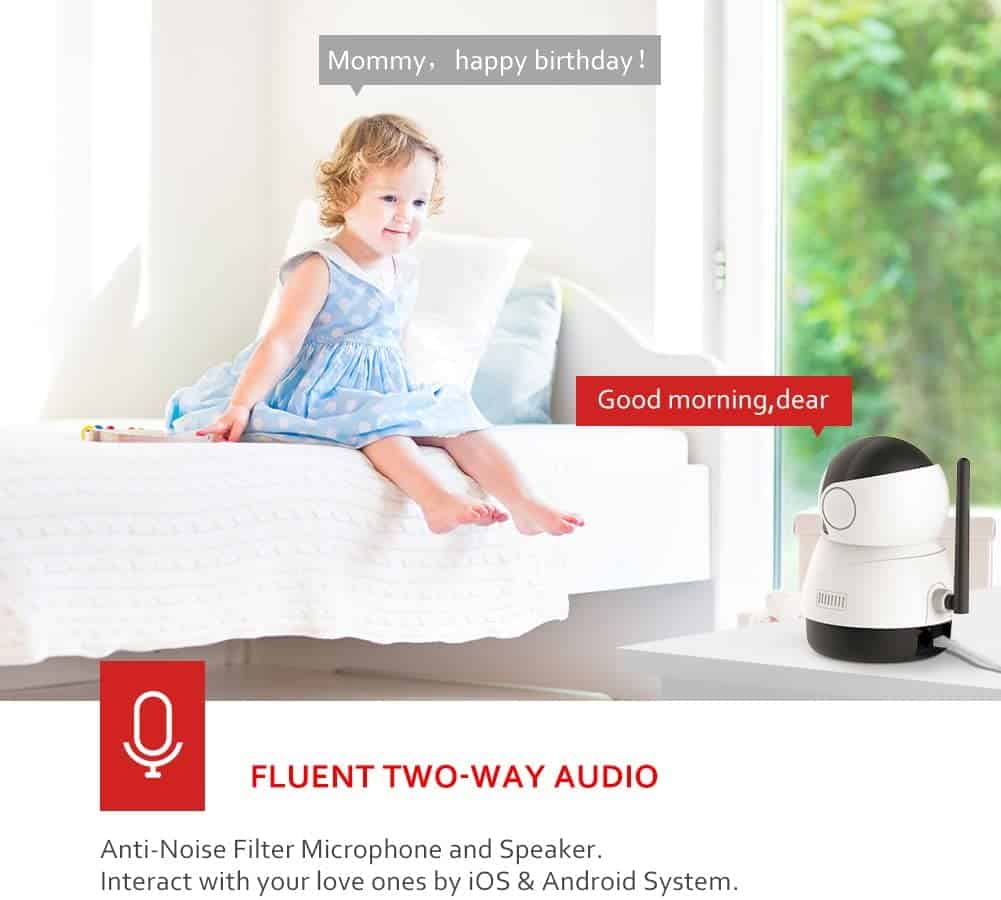 There have been more times than I can remember as to why a video baby monitor is essential for us as a family.
I am a writer/blogger, and I work late at night when the house is quiet, and my office tucked away in the eaves of the building. When I built my office, I soundproofed it so that I did not disturb my wife when working. Still, the problem with that is I cannot hear what is going on outside of my office so having a video baby monitor means I can watch my baby girl while I work and listen to her through the night without any problems.
When we go away and stay in someone else's home, having a video baby monitor means we could watch Madeleine sleep and reassure her with the two-way audio that everything is ok.
You hear a bump in the night, and with just an audio baby monitor, you have to guess what it could be. However with a video baby monitor, you can bring up the night vision on your phone and see that it was just that huge teddy bear that has fallen off the bed, so there is no need to panic and go and wake the sleeping child.
I have also watched my little girl have nightmares and night terrors, and it is just reassuring to see her where if you were just listening to the audio you would have no idea what is going on and would have to go into the room to see.
I travel a lot for my blogs and so sometimes when I am alone in the hotel room I log into our video baby monitor and I can watch her playing in her room or chat to her about her day. It is reassuring to know that she is safe and sound.
What is the best video baby monitor for 2020
Well, thankfully for everybody who is looking to buy a video baby monitor the technology has improved massively. Also, the costs of video baby monitors have dropped significantly, and so now you get a hell of a lot more for your money than you did just two years ago.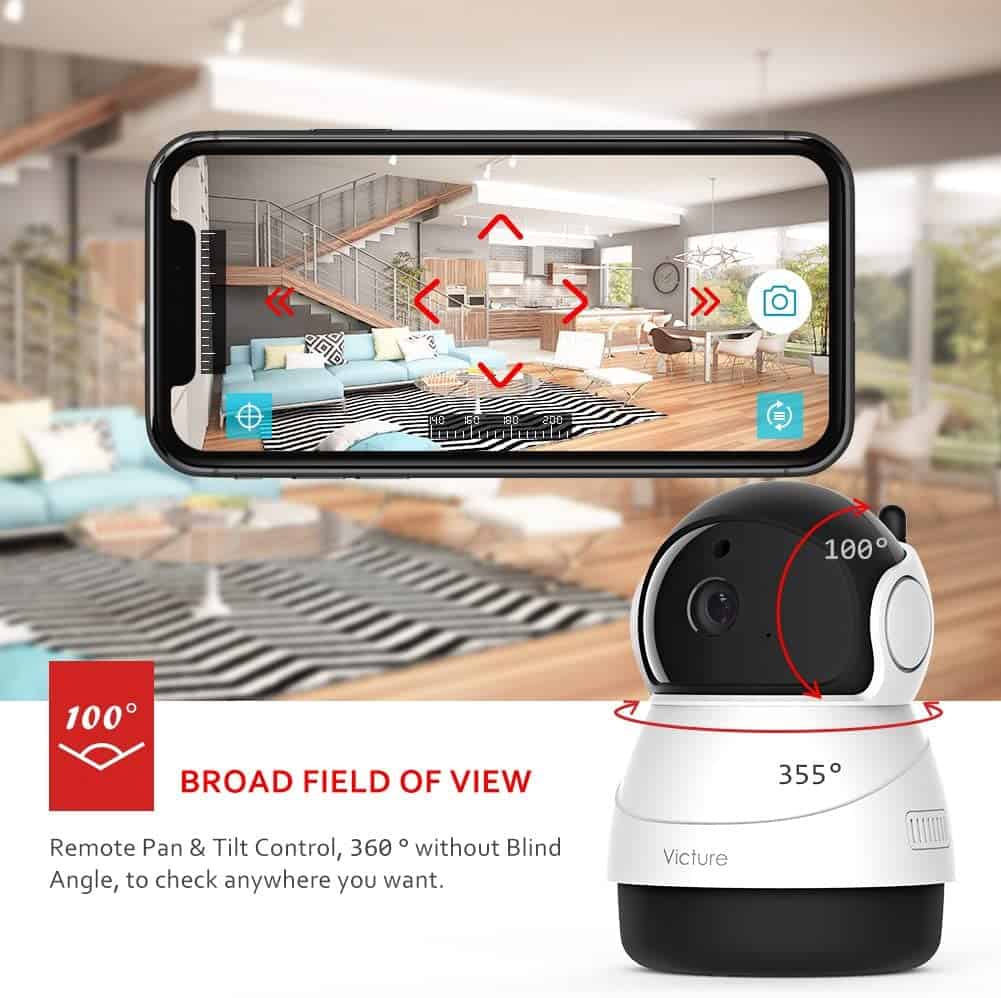 A few things that I look for when comparing one video baby monitor to another is as follows.
They need to be accessible from a mobile device.
They need to be able to use wifi and also a LAN connection.
More than one person to view the video baby monitor
Be able to talk through the video baby monitor
Must have Night vision
Being able to rotate the camera is also a massive positive
If you can find all of the features listed above in a video baby monitor then, in my opinion, you have hit the jackpot.
Victure 1080P FHD Wifi IP Camera Baby Monitor with Night Vision Motion Detection
Video Encryption on this IP video baby monitor is very unique because even with the micro SD card, the files cannot be copied. So this means that only you can access the video files in your account.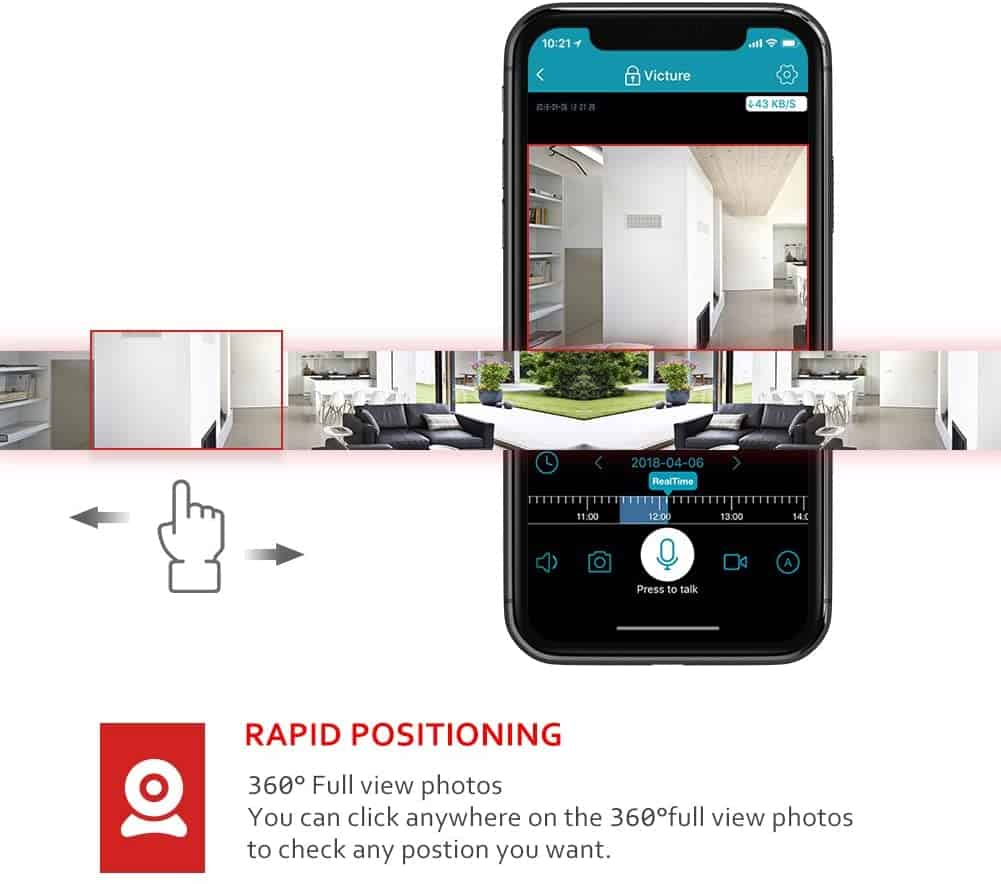 This Victure 1080p wifi IP camera has quick and easy installation. Download the app onto your apple or android smart device and not only can you set many preset positions for the camera but also add several more video baby monitor cameras in different terminals.
Night vision and motion detection allow for you to see 30 feet away in the pitch black of night to provide you with super night vision. You can also set up this video baby monitor to monitor movements and then send a notification to your smartphone, which could protect your home from burglars.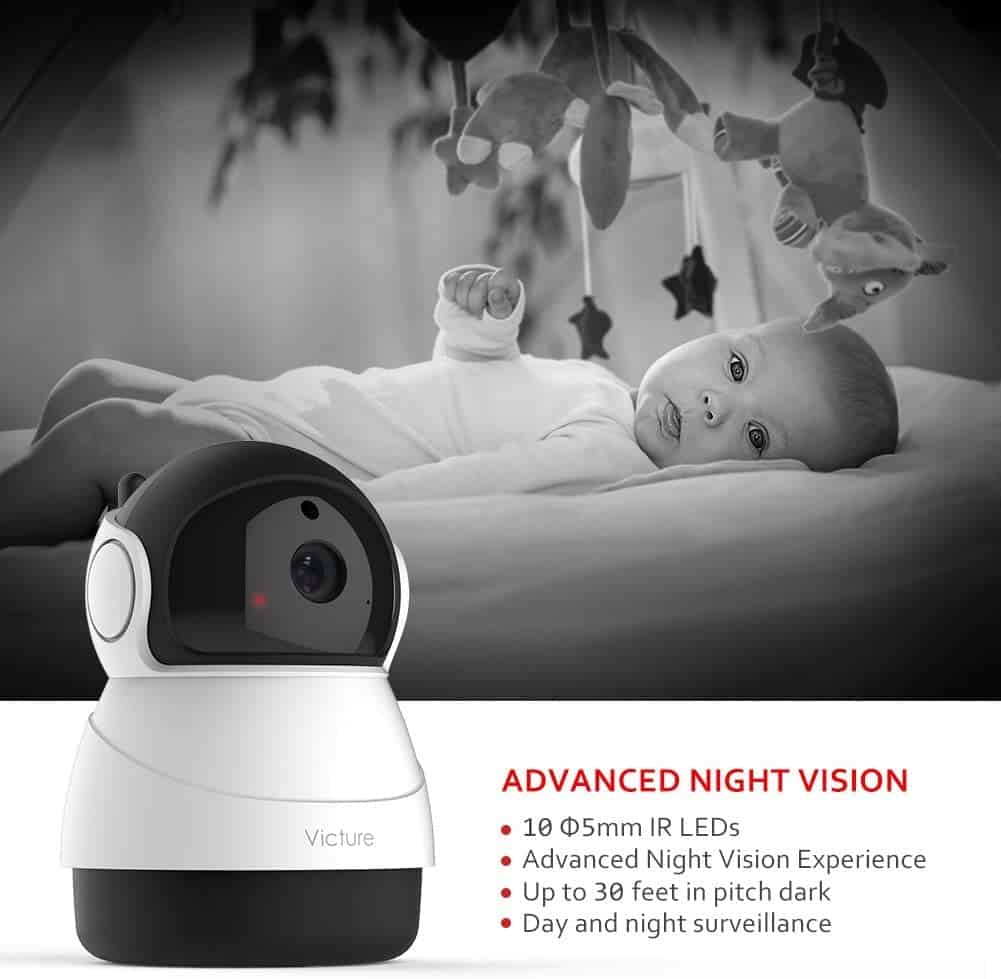 Panoramic views. Now, this feature is a great idea. It gives you 100° wide-angle lenses with 355° horizontal and 100° vertical rotation range to achieve 360°panoramic viewing so there won't be any blind spots.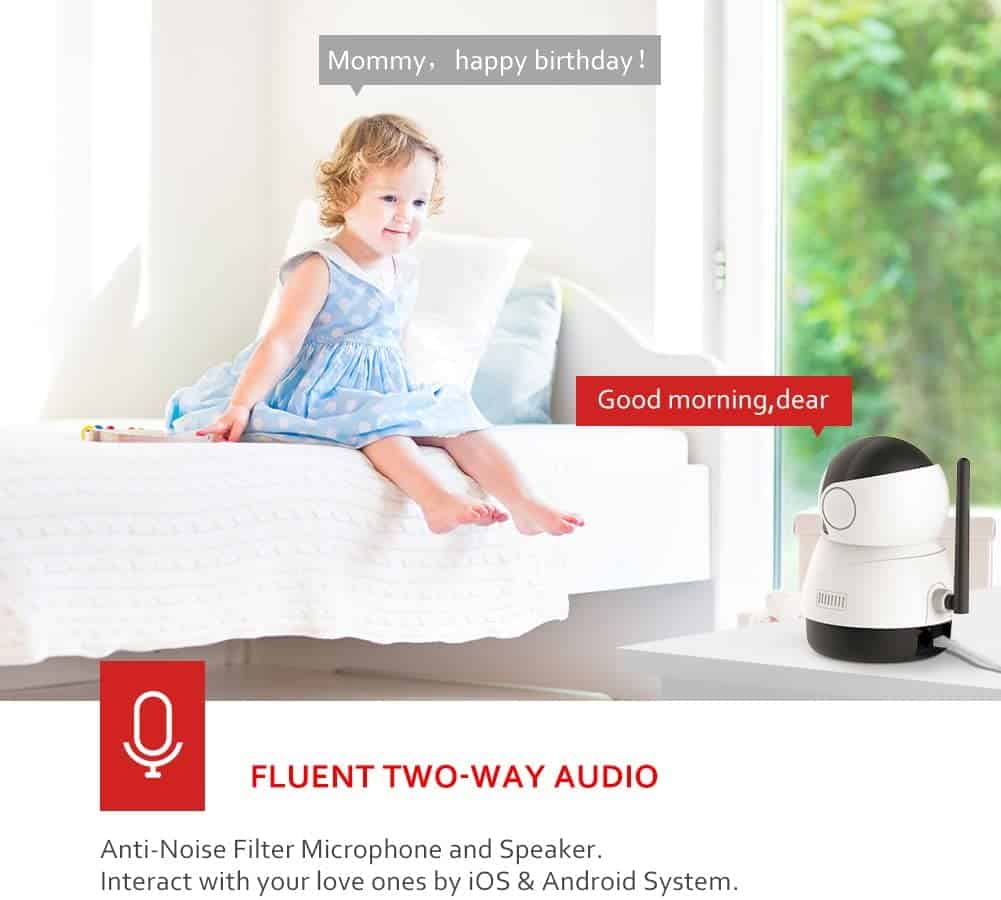 2 Way audio means you can chat to your child and comfort them or in our case, yell at them to get back into bed.
Motion detection is an excellent feature for a video baby monitor because as soon as the camera recognizes your movement, it will send you an alert directly to you via their mobile app.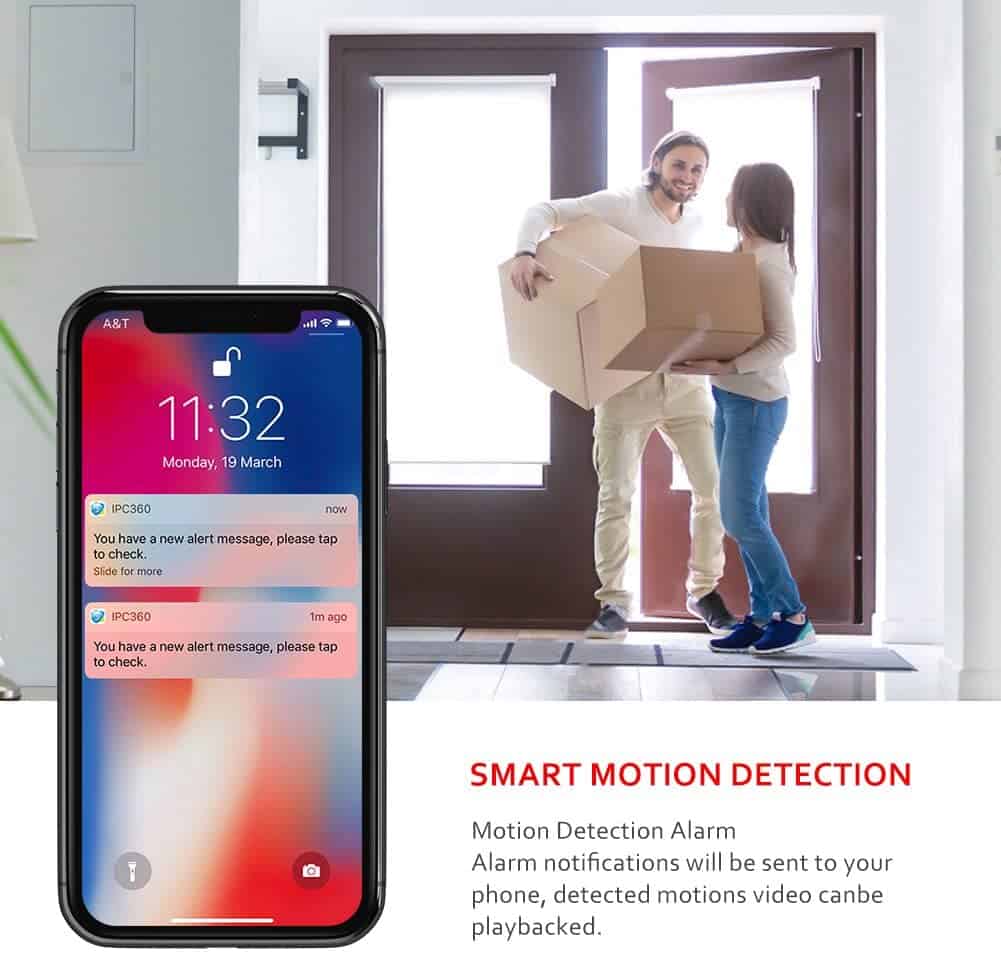 We found that the best place to buy this Victure 1080P FHD Wifi IP Camera Baby Monitor was on amazon and priced at only £19.99 this video baby monitor is a bargain. Looking at all of the reviews on amazon this video baby monitor is the one that I would be buying as I write this it has had 9677 reviews with 74% of them being five stars.
There are many other places to buy this video baby monitor cheaper, but we found that for things like technology it is a good idea to buy them from Amazon and let's be honest it is also only £19.99.