I am a stay at home, work at home dad myself, so this story is actually quite close to my heart.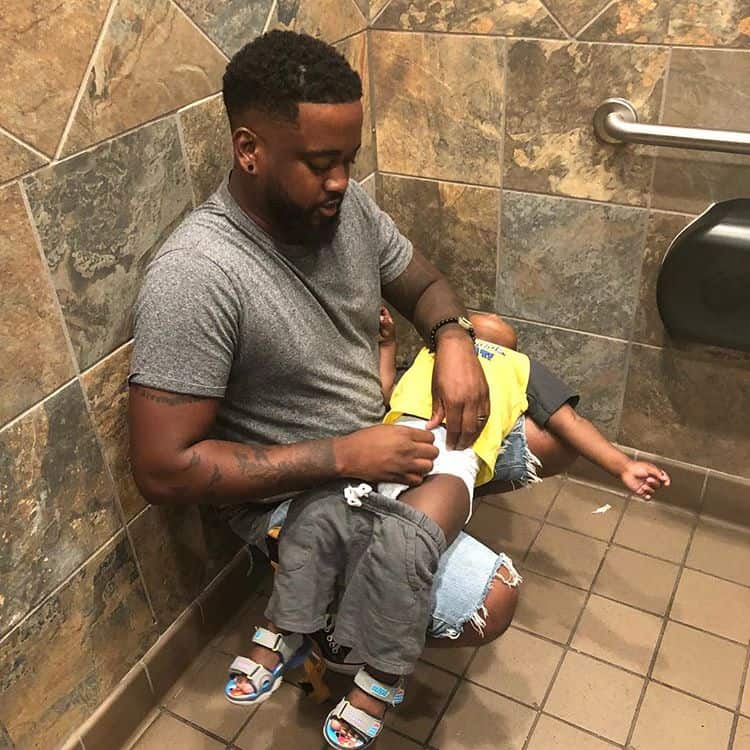 If you are looking for public baby changing facilities, you will typically find them in female and disabled toilets. If you look at public spaces and how they attribute parental responsibility, it would appear that the mummy's role to change the babies nappy. However, when myself and many other dads are out and about with our babies, we struggle to find a suitable place.
Sometimes there are not any public changing facilities, and we have to resort to changing a dirty nappy on our laps or even worse on the floor. Until now, a dad Donte Palmer, who is being the Instagram account Three Boys One Goal, started the campaign #squatforchange. After Donte published an image of himself changing his sons nappy on his lap, his post went viral and received nearly 10,000 likes.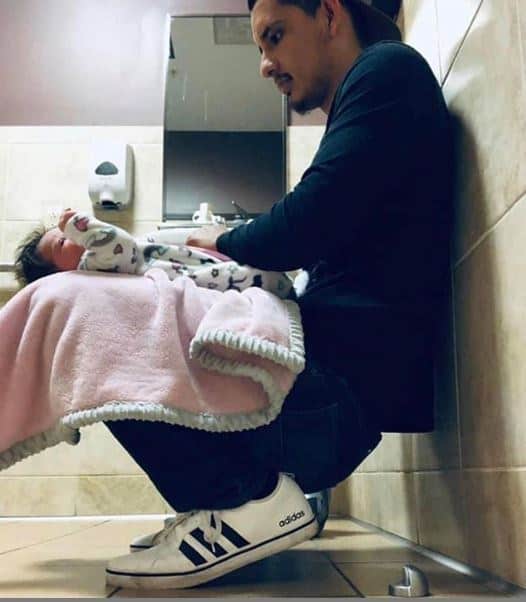 Lots of other fathers have jumped on the bandwagon. They have been expressing support for the movement as they have all experienced the same makeshift baby changing facilities to accommodate their babies toilet needs.
Dantes campaign has actually paid off as Pampers have agreed to install 5000 changing tables in men's toilets throughout the U.S. and Canada by 2021. They have even got JOhn Legend involved in the campaign, asking dads to use the hashtag #lovethechange to direct more attention to this problem.
He has asked dad's and parents to share pictures with their children using the #lovethechange hashtag, and for each post, Pampers will provide an extra changing station.
'This campaign is changing the narrative of what a father is, the dynamics of what a marriage looks like, like showing that marriage equality is important,' Donte explains to Metro.co.uk. 'My wife and I do everything equally – diaper changing is not just my wife's job; it's my job as well. 'A lot of dads can relate – dads from the U.S., South America, Uganda, Canda. They're all helping me to push.
'They're pushing the message because dads need the resources and that's what we're getting. Pampers are heroes. We're partners now, and it's really making a difference to the world as we see it today. 'With this partnership, it's embracing a parent, and I'm so honoured.'
SFC is hosting our first annual event in an effort to highlight fathers and shine a light on the positive contributions that dads are making in the lives of their children.

We set out to support 40 families within the Jacksonville community. we need your help! #SquatForChange pic.twitter.com/0ap2cLwz0J

— Donte Palmer (@SquatForChange) October 14, 2019
Donte has said that is was overwhelming and humbling to get so much attention from around the world when his post went viral last year.
Donte said it was humbling and overwhelming to get so much attention from around the globe when he went viral last year.
'I just ran with it and embraced it and wanted to continue to push a great initiative like Squat For Change,' he says. So Pampers joined forces with Koala Care which provides baby changing stations in toilets to provide facilities across parks and recreation centres, community centres and libraries.
Donte added: 'I'm excited, I'm honoured, I'm using the moment to teach my boys that if you have a dream, if you have an issue with something, open your mouth, chase it, go attack that thing you want and it'll come.
'That's why I've been giving my heart to this campaign to change men's lives. I'm proud to have a huge partnership with Pampers and Koala Care which will help people really receive my message.'
Donte is not ready to stop the campaign just there. Donte wants it to go even further. He wants the U.K. to get involved too because they deserve to see the change as well.