Kids swimming goggles are important!!
The summer heat is upon us, and with Covid-19 lockdowns slowly being lifted worldwide, swimming is a welcome option again for parents and their kids. Public pools are being opened, and private pools will be getting a lot of use. Kids swimming goggles are a must for children before they jump straight into summer and into the pool. Using goggles have several important functions:
1) Keep your child comfortable in the water – Swimming goggles protect your child's eyes from the water, allowing your child to comfortably see underwater while swimming and dunking his head in the water. Without swimming goggles, their eyes can get itchy and irritated. Protecting them allows them to see clearly and without any problems while enjoying their time in the water.
2) Protection from UV rays – Most kids swimming goggles offer important protection from UV rays. They keep them protected from bright sunlight, bright light, and harmful UV rays. This is also important in keeping your child comfortable while swimming, allowing more fun and less squinting.
3) Keep dirt and chemicals out – Kids swimming goggles provide a barrier between the eyes and the water, keeping any dirt, chlorine, or other chemicals out. This makes the swimming pool, lake, or ocean, a safer environment for your child.
As a parent myself, I have always insisted that my children wear swimming goggles when they are in a swimming pool. It adds another level of protection and helps boost confidence when they are playing and splashing about.
We've found a few great kids swimming goggles you'll want to grab before summer goes into full swing:
1) Cooloo 2-pack Swimming Goggles for Kids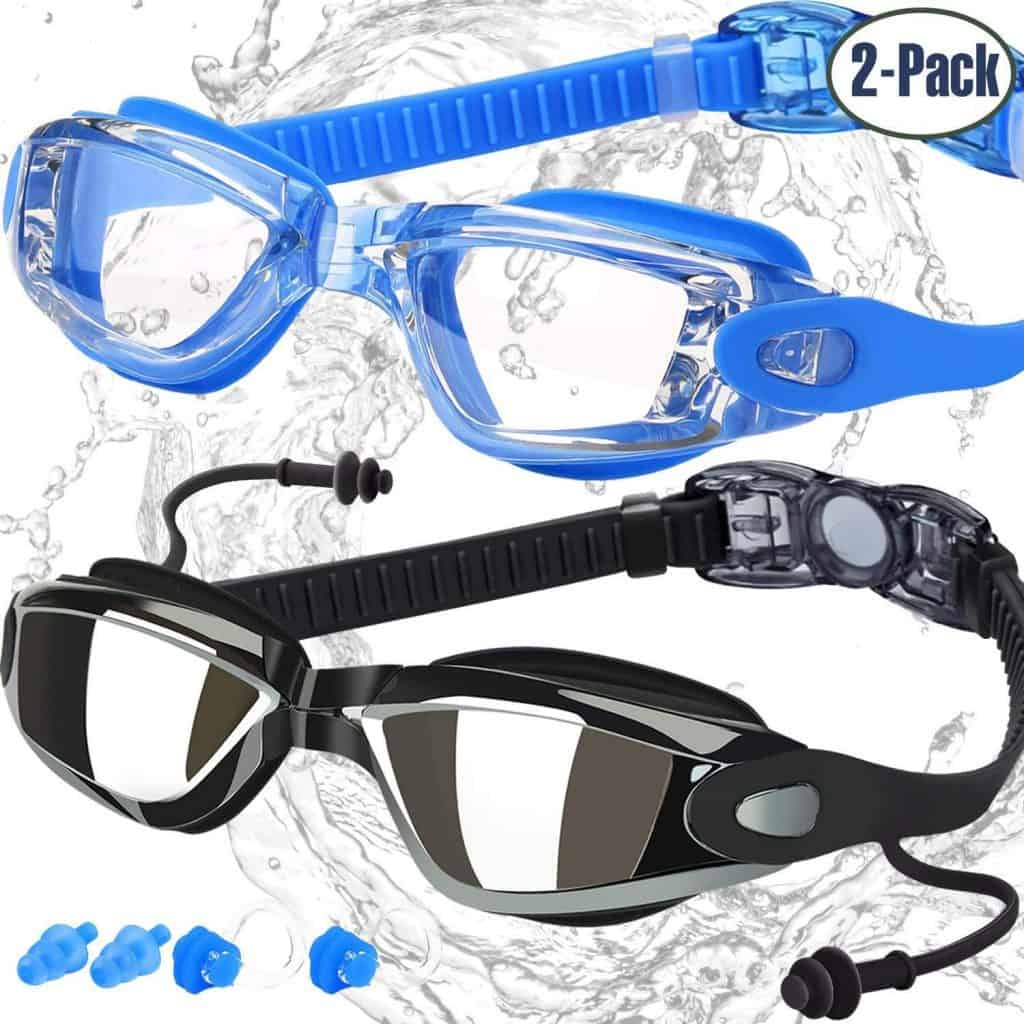 The Cooloo 2-pack kids swimming goggles is not only great value for money but simply great! The pack of 2 comes with two swim goggles with different lenses, two nose bridge replacements, plus two nose clips and two earplugs. These kids swimming goggles are made from odourless and high-quality silicone and are latex and PVC-free, making them suitable for even the youngest children. The lenses are anti-mist and also offer UV protection. These kids goggles also feature quick-fit button straps that make them extra easy to adjust. This is definitely at the top of our list for goggles for your child.
We found Amazon to be the cheapest for the Cooloo 2-pack Swimming Goggles for Kids.
2) Speedo Junior Unisex Futura Biofuse Flexiseal Goggles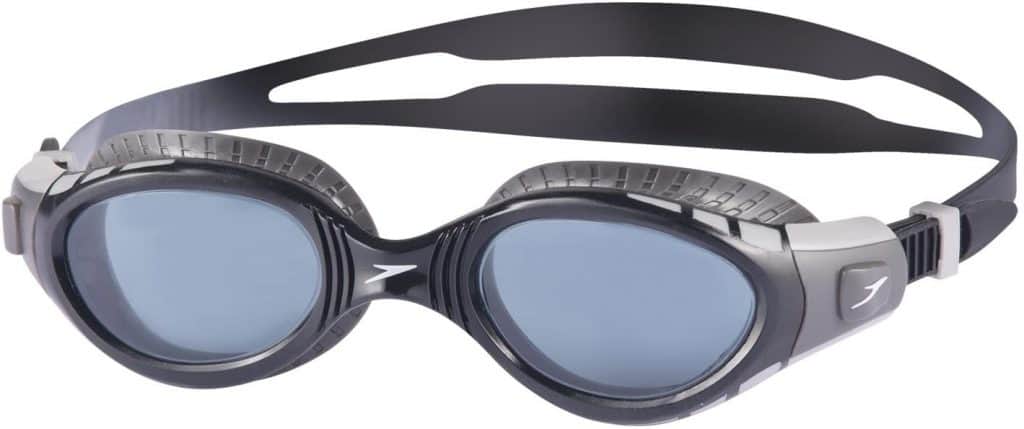 You can't think of swimming without thinking of Speedo. This brand is known for dependable and high-quality products, including the Future Biofuse Flexiseal Goggles for kids. The best part of these goggles is super soft, flexible seals that offer great flexibility and a softer and more cushioned fit. They are among the most comfortable goggles available for kids today. They also feature lenses that are anti-mist and offer 100% UV protection. Many reviews from parents have also mentioned that the Futura Biofuse has lasted their kids for years, definitely a plus in our book.
We found Amazon to be the cheapest for the Speedo Junior Unisex Futura Biofuse Flexiseal Goggles.
3) Aqua Sphere Kid's Vista Junior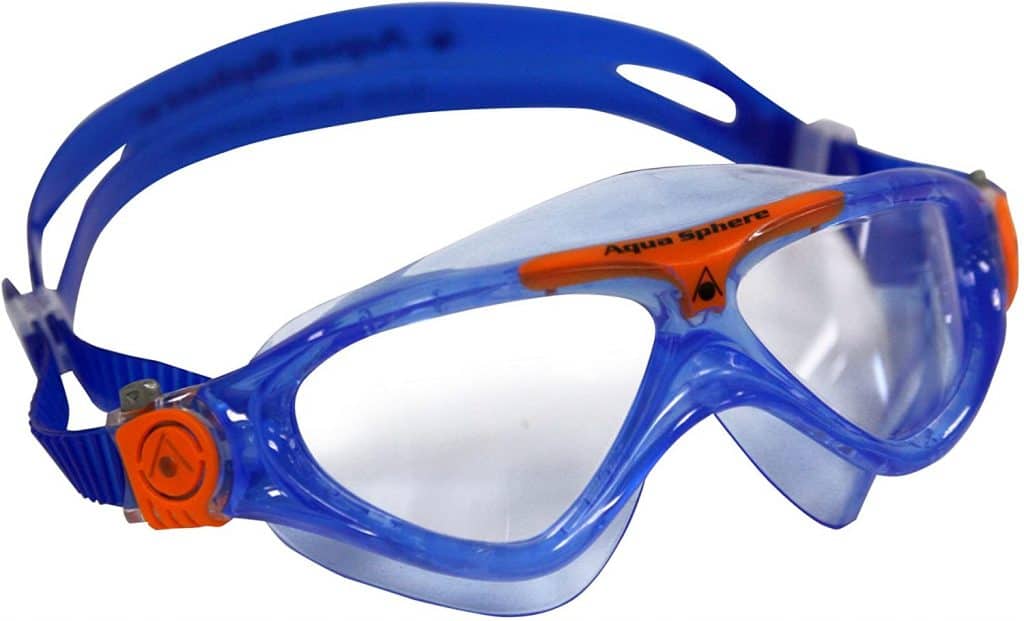 We love this pair of kids swimming goggles from Aqua Sphere. They are made with a patented wraparound curved lens that offers extra clear visibility and a 180-degree wide field of vision. This makes it one of the clearest goggles available, perfect for young swimmers who love to explore the water. The lenses are scratch-proof, anti-fog, and 100% UVA/UVB protection. These kids swimming goggles are great for both beginners and advanced swimmers.
We found Amazon to be the cheapest for the Aqua Sphere Kid's Vista Junior.
4) Zoggs Unisex-Youth Sea Demon Junior Hologram Lens Swimming Goggles

If you want a fun and whimsical pair of swimming goggles for your child, this is the pair for you. This fits older kids, from 6 to 14 years old, and features a fun hologram of reptile eyes on the lens. Even with this cute design, all Zoggs goggles have lenses that feature UV protection and anti-fog features that ensure your child can see clearly and without distortion. This fun pair is available in 4 colours, ensuring that your child will find one they like.
We found Amazon to be the cheapest for the Zoggs Unisex-Youth Sea Demon Junior Hologram Lens Swimming Goggles.
5) Augola Kids Swimming Goggles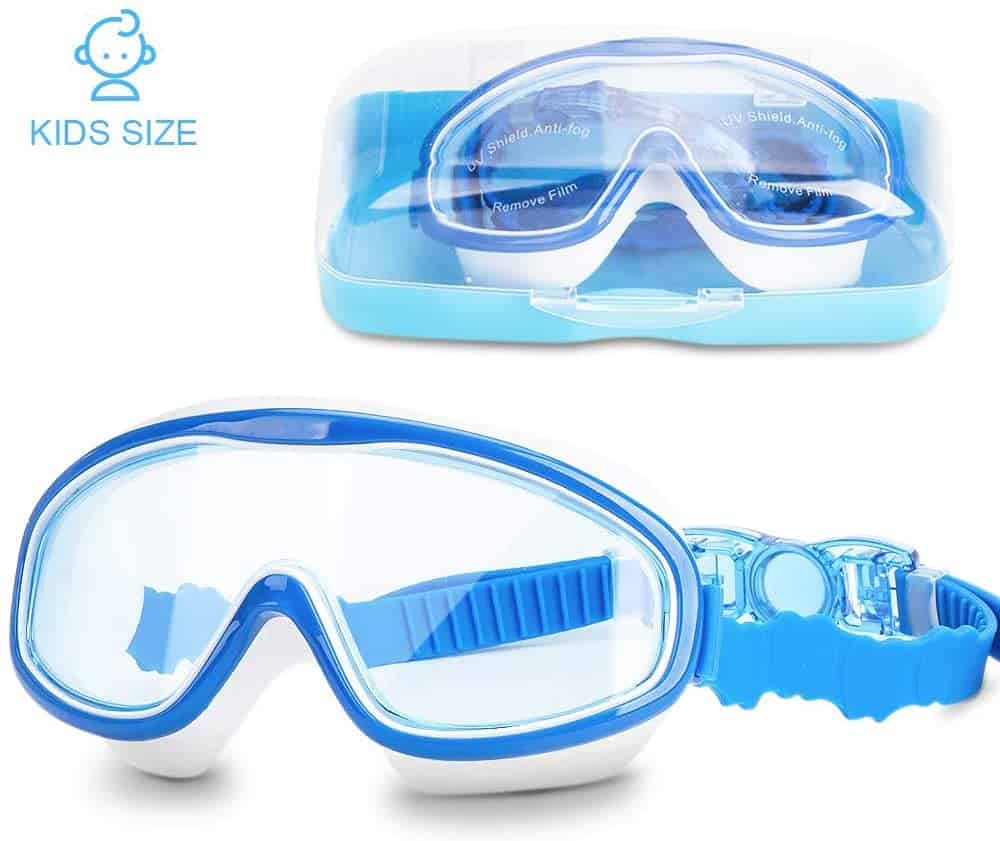 We like this pair because of its large lens – the big size offers a wider field of vision, making sure your child can see clearly underwater and without any barriers. Suitable for kids 4 to 15 years old, it features an adjustable strap and quick-release buckle closure, making it easy to put on and remove. Added bonus – these goggles come with a nose clip and earplugs as well. The lens is also anti-mist and features UV protection, making sure your kids' vision is well-protected. Definitely an excellent choice for all kids! With an adjustable strap, these will fit your child's head perfectly.
We found Amazon to be the cheapest for the Augola Kids Swimming Goggles
Enjoy having fun in the sun this summer with the right gear. Choosing a good pair of kids swim goggles will ensure your kids' stay protected and safe, even after spending many hours in the pool. We hope the list above helps you find the right one for your child.
No Child Should Swim Without Swimming goggles
If you are looking for water babies goggles, then these children's swimming goggles are perfect and are of great value. Choosing your swimming goggles is also a good idea to see if you can find some with scratch-resistant lenses as swimming goggles get a lot of grief from children and easily scratch.
If you have enjoyed reading about our swimming goggles for kids, please follow us on Facebook as we are always writing about useful things that all parents need and will enjoy.
If you have any suggestions or ideas that you think Whoobly should look into, please drop us an email. We rely heavily on readers sharing our content and commenting on our posts, so if you found this or anything else worthwhile, funny or just an interesting read, please make sure you share and send it to all your friends and family.