A play kitchen is one of the most popular toys for young children, and for a good reason. Not only are they extremely FUN to play with, but they also have a number of wonderful benefits for children as well.
If you're looking for a toy that encourages pretend play, which is one of the most important things a child needs to do to help him develop into a happy and healthy individual, then a kids play kitchen is definitely what you need.
Our Top 5 Best Kids Play Kitchen
Pretend play teaches children how to manage their emotions, including learning empathy and decreasing aggression towards others. Through pretend play, children also learn how to play with others, how to work together, and how to take turns. Of course, pretend play exercises and enhances their imagination and creativity. With a kids play kitchen, they can pretend to cook, bake, mix, slice, serve, think of new dishes – for example, get ready for your son or daughter to serve you "chicken with grapes, carrots, and ice cream." The benefits are endless!
Kids play kitchen should definitely be at the top of your next gift list. Both boys and girls, from about two and a half years old to 7 years old, will enjoy playing with a kitchen. Get ready to see the excitement in your child's eyes when you present this to them. The earlier you buy one for your child, the longer your child will benefit from playing with one. There so many great kids play kitchen options to choose from, so we've narrowed down the list for you. We looked at the budget, design, build quality, and features to come up with our favourite.
Here are our top 5 picks for the best kids play kitchen:
KidKraft White Vintage Play Kitchen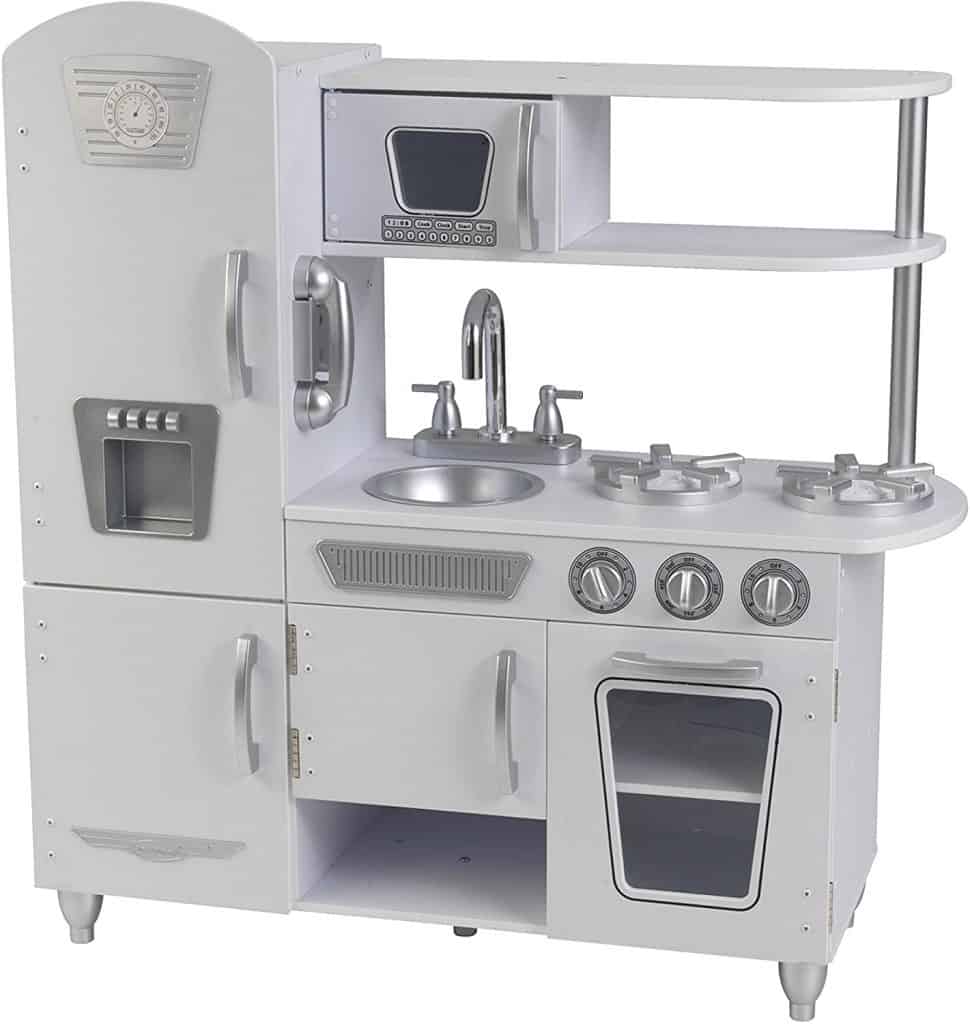 This model is well-loved by both parents and children alike. Parents will love this kitchen for its cute retro design that's pleasing to the eye, even for a mum with discerning taste. Kids will love it for all the fun features included – two realistic burners, an oven with a peek-a-boo window, plus a sink and a microwave. This is also made of sturdy engineered wood, BPA-free plastic, and non-toxic paint. The KidKraft White Vintage Play Kitchen is definitely at the top of our list and should be at the top of yours too.
We found Amazon to be the cheapest for the KidKraft White Vintage Play Kitchen
Tidlo Wooden Country Play Kitchen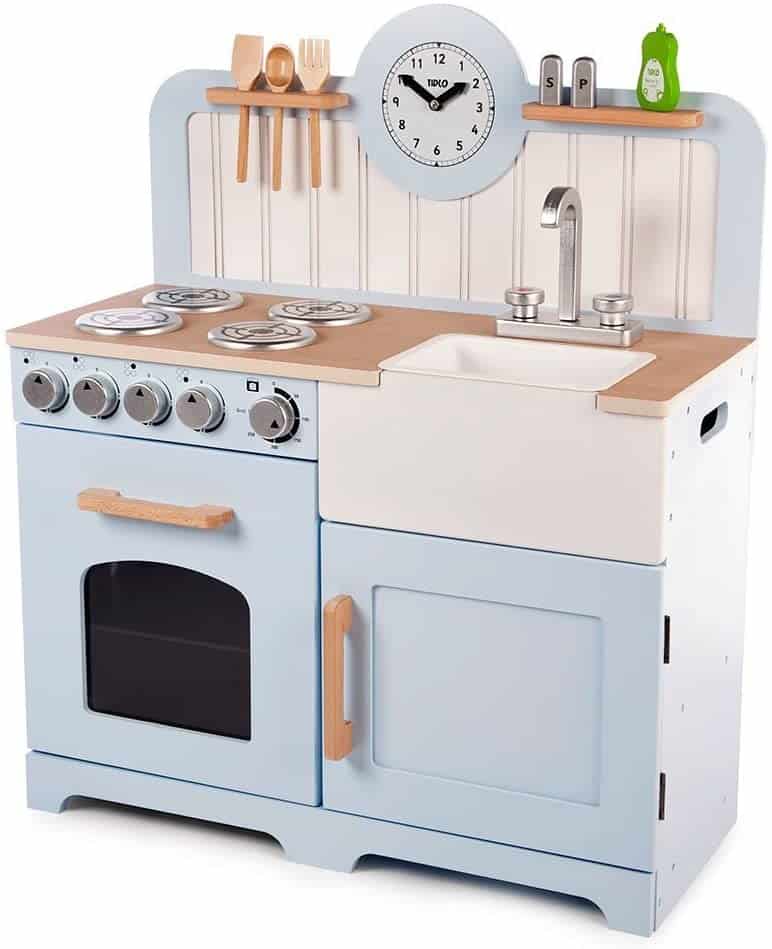 Another wooden kitchen option is the Tidlo Wooden Country Play Kitchen. This country-styled set features a lifelike oven and stove with clicking knobs (which kids will enjoy turning over and over again), a sink, a storage cupboard, a utensil shelf. It even comes with a clock that can help teach kids how to tell time. Available in light pink or light blue, this play kitchen comes with two salt and pepper shakers, three utensils, a plastic bowl, and washing up liquid. This kitchen also features a taller than usual work surface, which ensures that this toy will be loved and used by your child (or children) for many years.
We found Amazon to be the cheapest for the Tidlo Wooden Country Play Kitchen
Allkindathings Kids Kitchen Set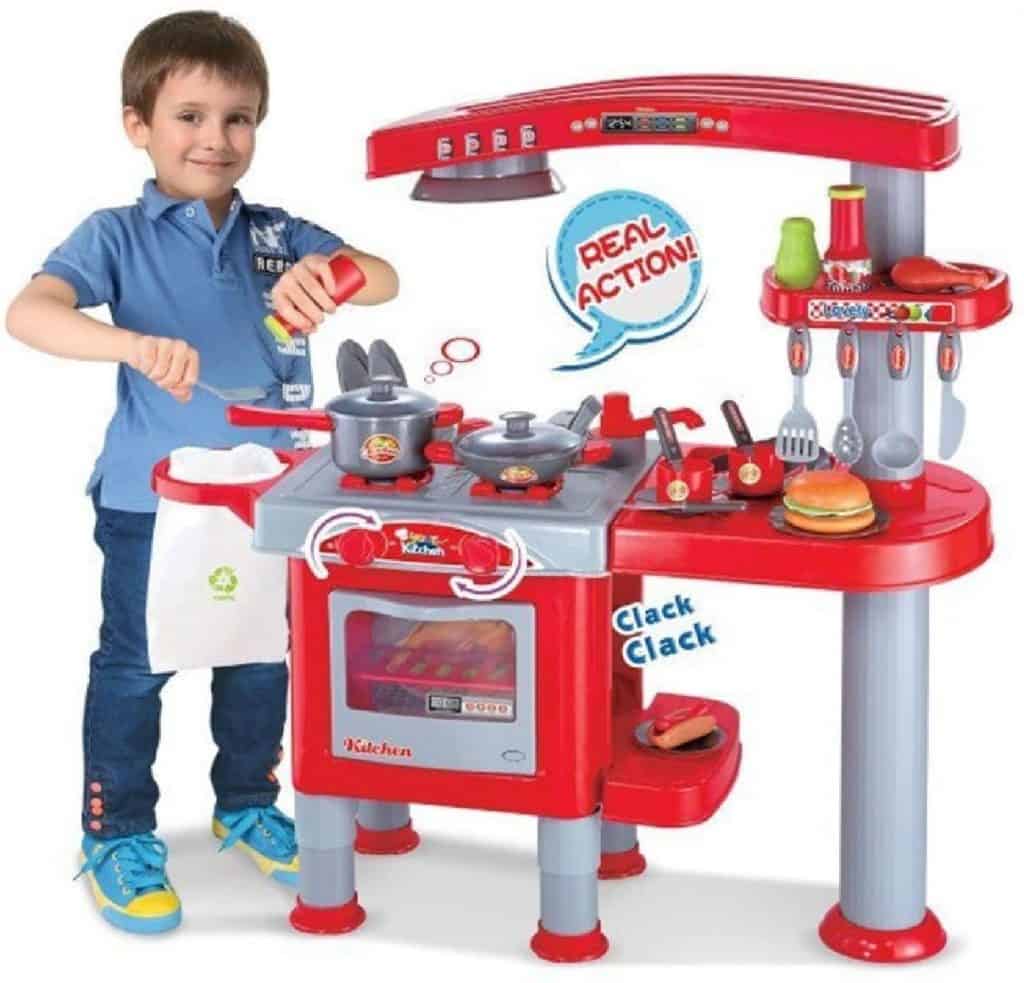 For parents who don't want to spend an arm and a leg on a play kitchen, the Allkindathings is the toy for you. This basic kitchen set comes with a dishwasher, an oven, a range hood and with a 69 piece accessory set that kids will love to play with. It gives children the complete play kitchen experience while giving parents value for money. You can choose between a red/blue version and a pink version. Any colourway you want, we guarantee that your child will spend many happy hours playing with this toy.
KidKraft Ultimate Corner Play Kitchen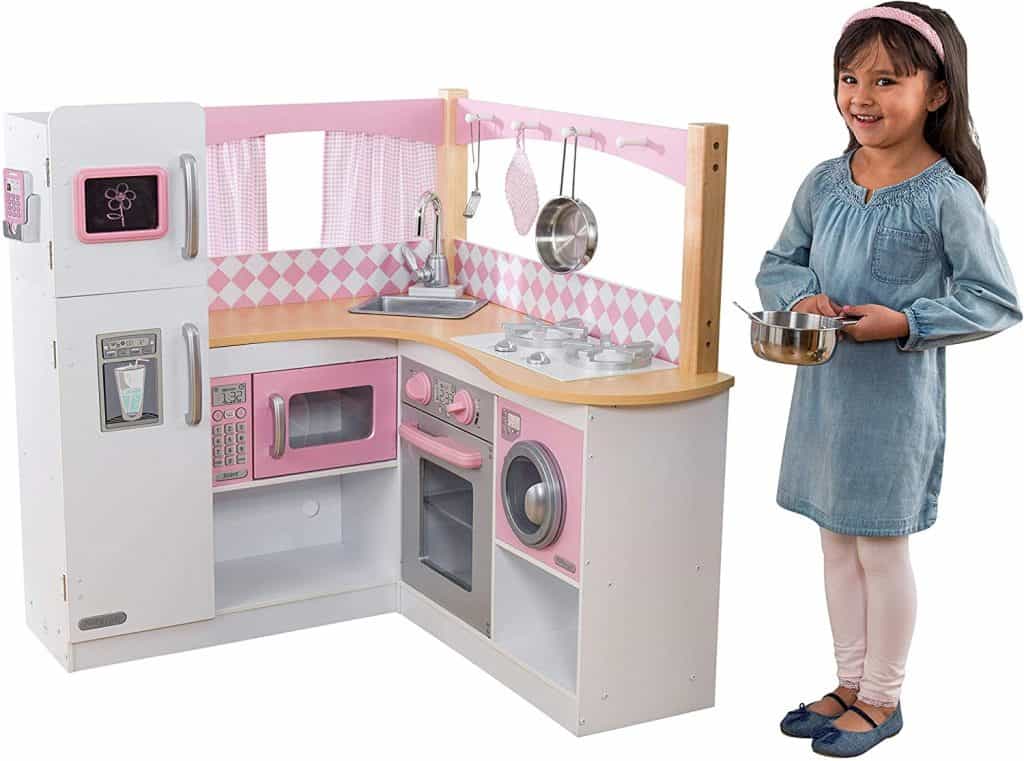 This brand knows how to make a great kids play kitchen. If you have space and a higher budget to spend on a play kitchen, we highly recommend the Kidkraft Ultimate Corner Play Kitchen. Compared to other kitchens which are just one-sided, this version has an innovative corner design which makes the kitchen much bigger than other brands and models.
This kitchen features enough shelves and storage for hanging pots and pans and for storing accessories like toy food. The icemaker and the burners have lights and sounds, and this set even includes a washing machine. Mums might just get envious of their child's kitchen and wish there was an adult size version.
New Classic Toys Kitchenette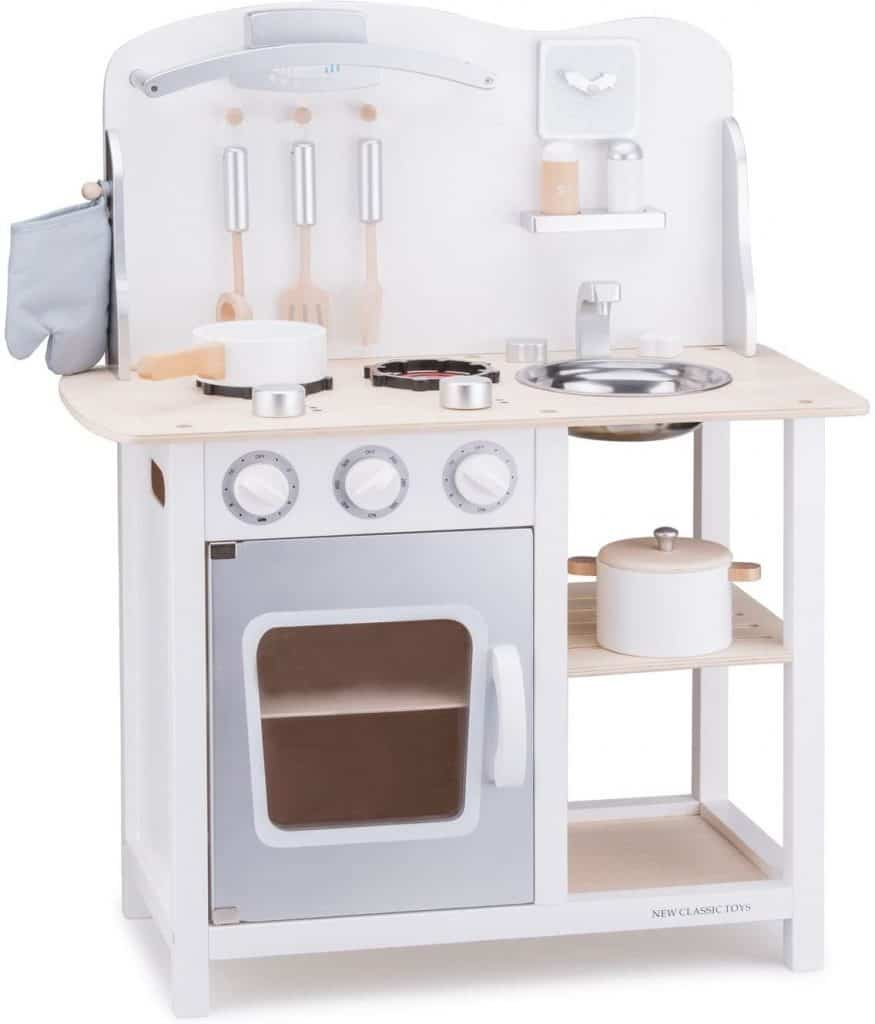 We love wooden kitchen sets (as you may have noticed based on this list) and the New Classic Toys Kitchenette is another one of our favourites. It's important to note that this play kitchen is smaller and shorter compared to other kitchens, so this is more suitable for a 2-year-old toddler compared to a three or 4-year-old. This comes in 4 different colours, but we like the white version best. Its clean and simple white wood design with silver touches will easily blend into any room and any home. This kitchen comes with a pot with lid, frying pan, three cooking utensils, a cloth oven glove (nice touch!) and salt and pepper shakers that your child will immediately enjoy playing with.
No matter what kids play kitchen model you choose, you and your child will both enjoy having this toy at home. A good play kitchen will give your child hours of enjoyment and years of beneficial pretend play. Parents can be confident that they chose a toy that is not only enjoyable for their child but also educational.