We decided to take a look and see what is the best baby bag backpack.
It's a thought that often crosses new parents' minds – "How can someone so tiny have so much stuff?" Pre-baby, leaving the house meant getting up, grabbing your purse, and going out your front door. Period. It would take a few seconds more if you had to double-check that you locked the door behind you.
With a baby, it's an entirely different story. You might need to take a few hours to make sure you have everything you need. Remember, you'll need to pack nappies, the blankie, baby bottles, wipes, extra change of clothes, and more. You'll also need to make sure that your baby bag backpack is roomy enough for all your baby's things, but not too bulky that it becomes too heavy to carry around.
A lot of parents nowadays prefer a baby bag backpack over the typical nappy bag because not only are they more stylish, they keep your hands free. When choosing a baby bag backpack, you need to make sure that it has the perfect balance of form and function. We've rounded up a few of our favourites to help choose the right one for you:
Here are our Top Best Baby Bag Backpack
Cosyland Nappy Changing Backpack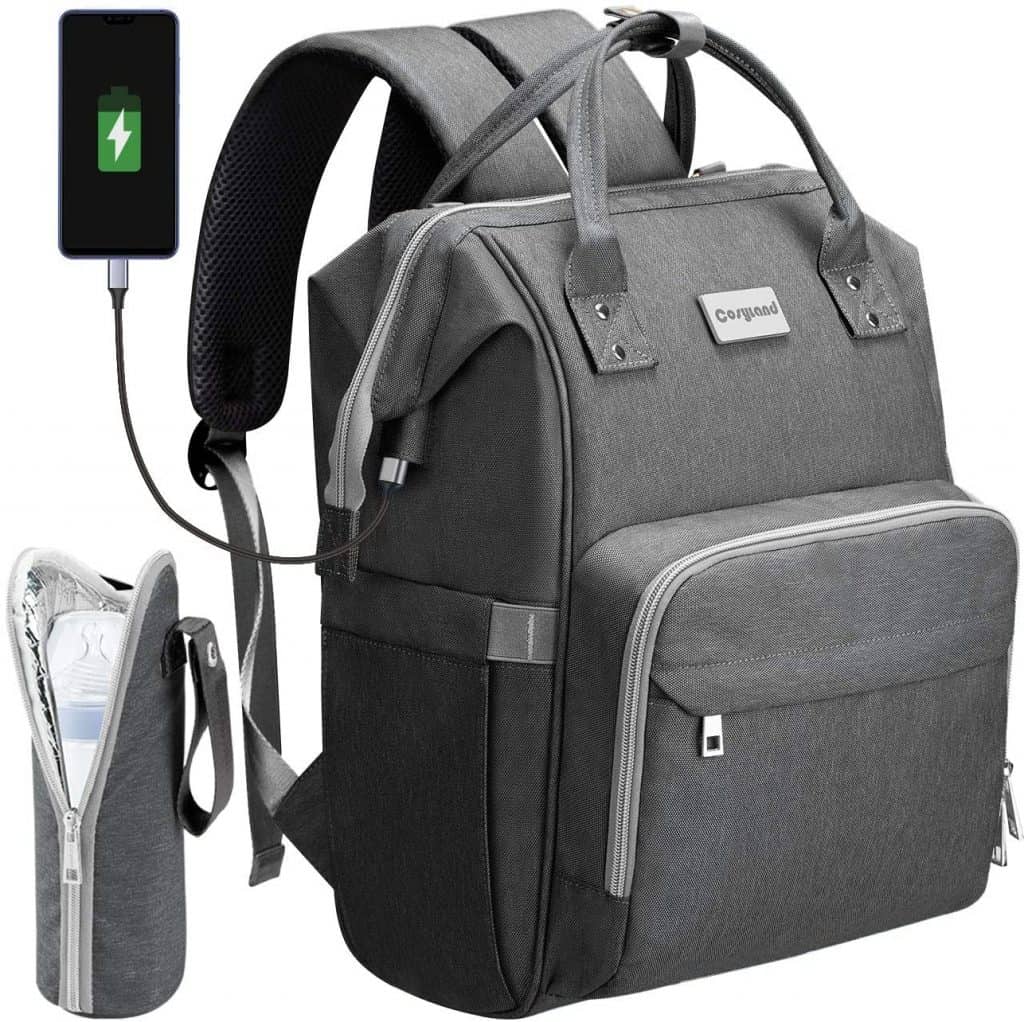 For mums looking for a practical bag that gives excellent value for money, this is the baby bag backpack for you. The Cosyland backpack comes in 3 different colourways and has all the features you need in a changing bag at a fraction of the price of other bags.
It boasts of a number of organizer compartments including garterized inner pockets for bottles, wipes, and nappies. The outer zipped compartment is insulated and has enough space for two baby bottles. This bag even comes with a USB cable, allowing you to keep a power bank inside the bag and charge your phone without having to open the bag and rummage through all your baby's things. Straps are also included, allowing you to hang the bag to your pushchair. Talk about a genuinely hands-free bag!
We found Amazon to be the cheapest for the Cosyland Nappy Changing Backpack
Lekebaby Large Nappy Changing Backpack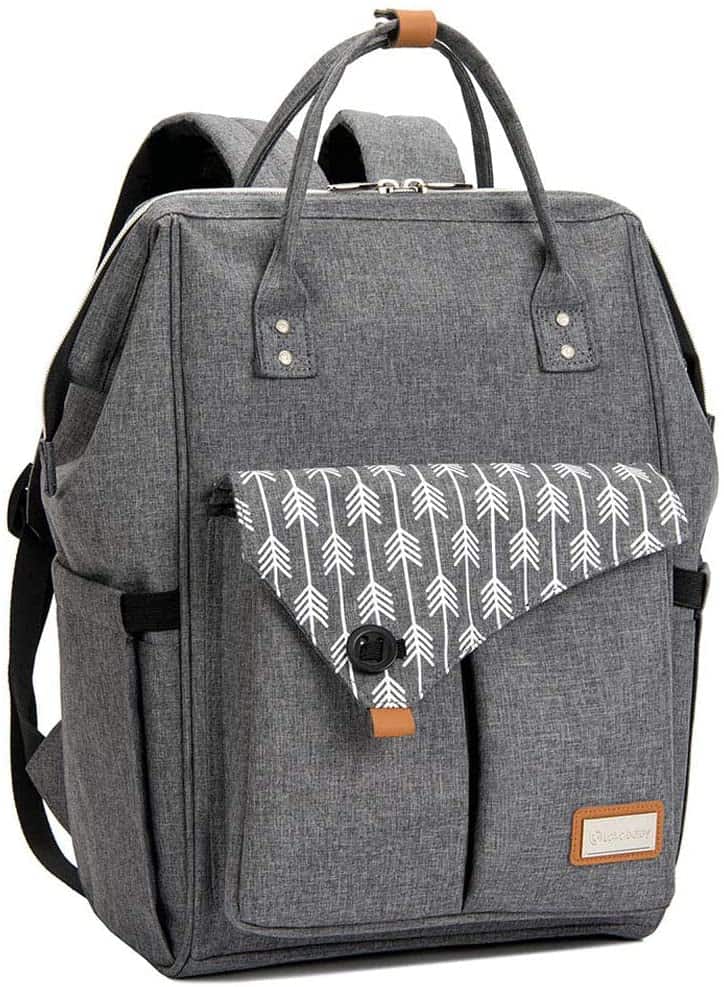 The Lekebaby Nappy Changing Backpack is functional, spacious, and with a clean and neutral design that both mums and dads wouldn't mind carrying around. We love the contemporary shade of grey with subtle white arrow print.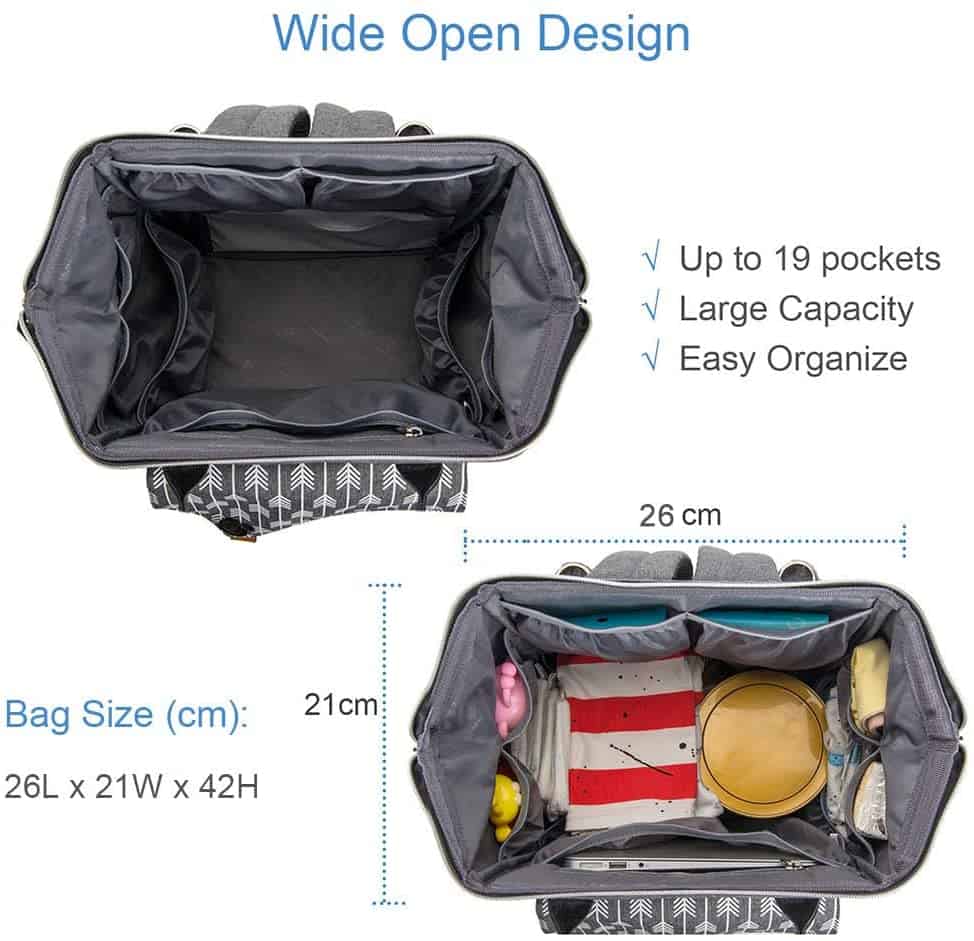 All the important features needed in a baby bag backpack are found in this bag – insulated front pockets for bottles, a nappy organizer separate from the main compartment, and an easy access mommy pocket (because you have things too!). The fabric is also water-resistant, prolonging the life of this bag. This bag also has other great features – a laptop compartment, an anti-theft pocket in the back for wallet and keys and a built-in pram hook. This is definitely at the top of our list for price, function, design combination.
We found Amazon to be the cheapest for the Lekebaby Nappy Changing Backpack
Skiphop Forma Changing Backpack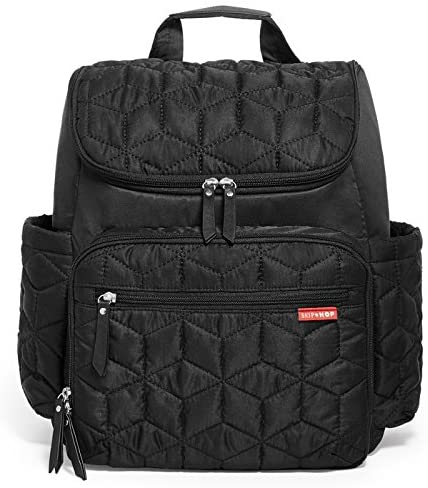 There are several reasons to love this bag. First, Skiphop is a great brand that is well-known for their diaper bags. The quality of their bags lasts many years and through multiple children. Next, The Skiphop Forma has more than enough inner compartments to keep all your baby items organized. No need to rummage through your whole baby bag to look for those baby wipes or your baby's tiny socks.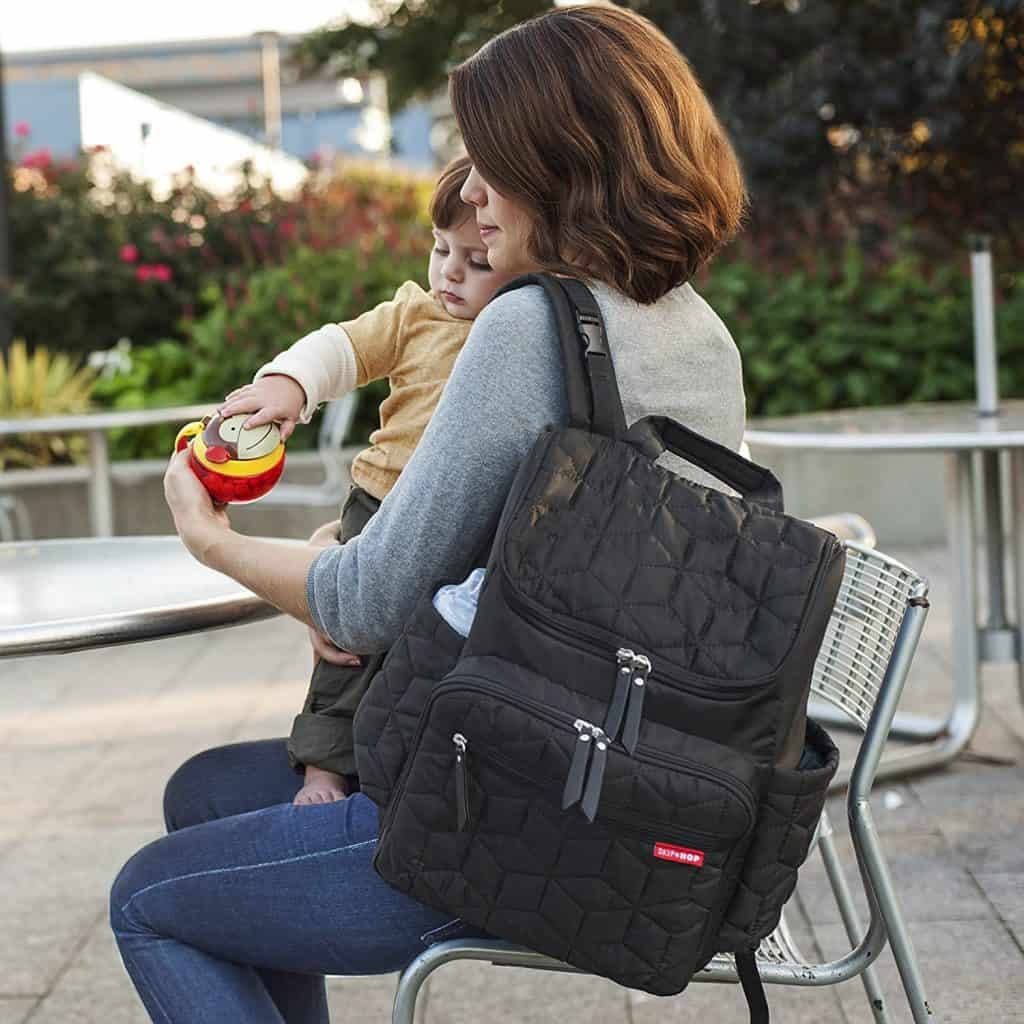 This baby backpack comes with a unique front section that includes two packing cubes that allow you easy access to bottles or clothes, without having to open the main section of the bag, a changing pad, and two additional outer pockets. One of the packing cubes is insulated, perfect for baby bottles. This backpack also easily clips on to the handles of your pushchair. It also has cushioned and comfortable straps and an easy to grab handle, making us love this bag even more.
We found Amazon to be the cheapest for the Skiphop Forma Changing Backpack
JuJeBe Be Right Back Backpack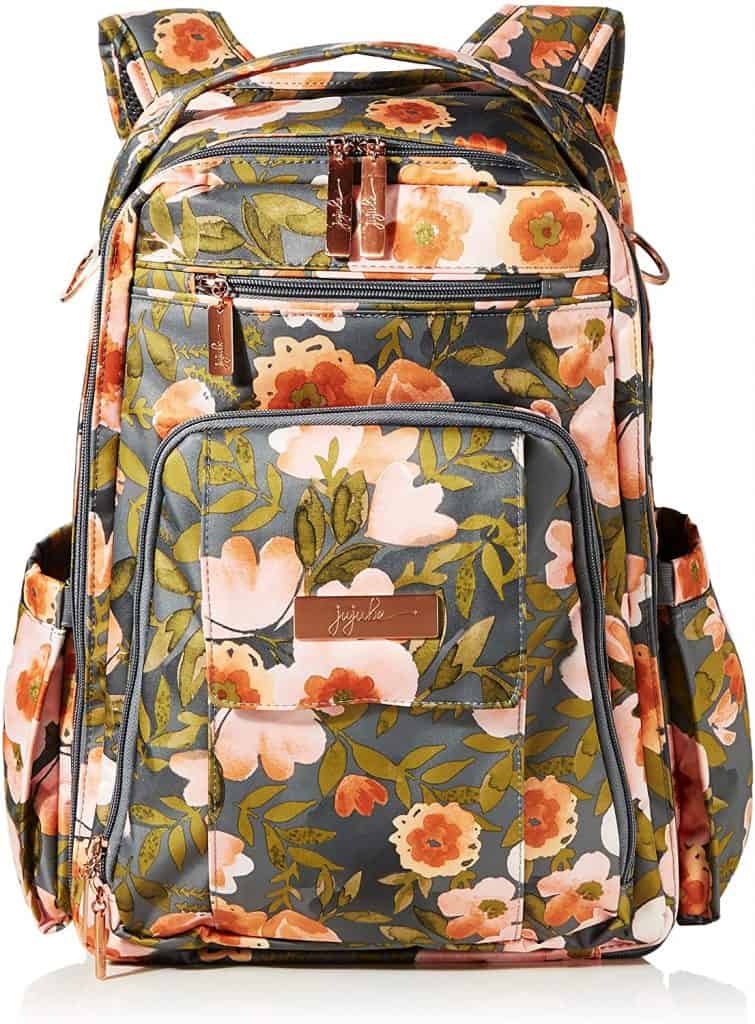 You can't talk about baby bag backpacks without talking about JuJuBe. This brand has a cult following among mums who love this brand and everything it makes, and with good reason. JuJuBe bags are made with a Teflon-coated material that resists stains on the outside and Agion-treated material on the inside that is anti-bacterial. Padded shoulder straps make it more comfortable to carry compared to other baby bag backpacks. This bag also comes in 10 vibrant prints, making sure that all moms will find something that fits their personality.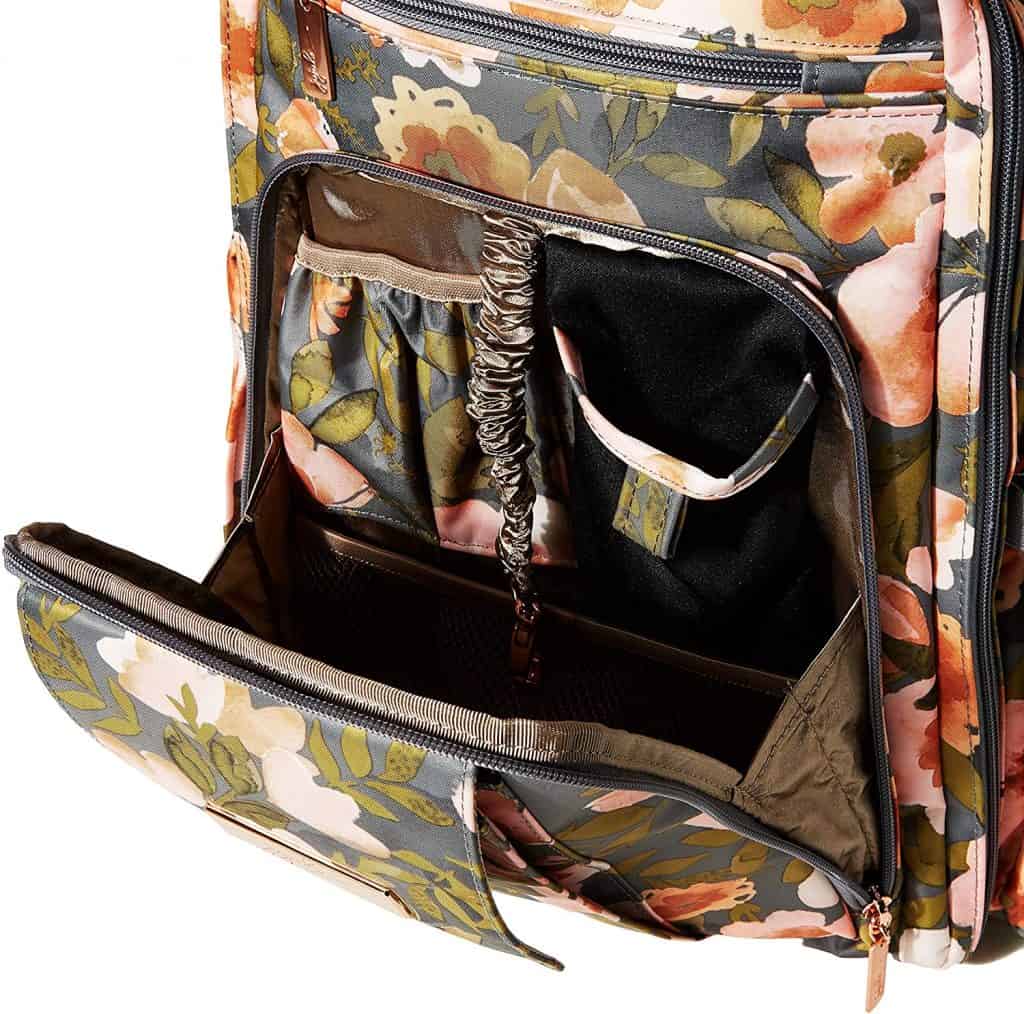 The Be Right Back Backpack also has a quick-access storage pocket, cell phone pocket, and a "mommy" pocket for your things. Memory foam changing pad also included. Though higher in price compared to other nappy bags, this bag has a lifetime limited warranty against manufacturer defects. Definitely worth it for a bag that you'll use for years to come.
We found Amazon to be the cheapest for the JuJeBe Be Right Back Backpack
There are a lot of options for baby bag backpacks out there but always take a look at what your priority is. Is it the style of the bag? The size? The price? How many compartments does it come with? Once you narrow down your top must-haves in a bag, then it will be easier to choose what works best for you and your baby. A baby bag backpack is an excellent choice for most parents because it's always easier to have your hands free, ready to pick up your baby (or run after your toddler) whenever you need to.