TABLE AND CHAIR FOR KIDS
Because of recent global events, most parents have probably realized that it's a good idea to have a study area, or at least a designated table and chair for your child, at home. Homeschool and distance learning has become a real possibility in the last few months for parents worldwide. With a significant chance of your child being at home most of the day, it's important that they have a workspace and activity area they can call their own, so we are looking for the best kids table and chairs set.
To have this, a kid-sized table and chair set is a must. Yes, it's possible for your child just to study and do homework at the dining table, but a good kids table and chair set for kids can encourage independence and make homeschool life a little more organized. Ideally, you'll want a table and chair sets for kids that are durable, have some storage space and don't take up too much space in your home.
Looking for children's table and chairs set can be quite hard, so we have narrowed it down to the ones listed below. So if you are looking for the best toddler table, then look no further.
Homfa Children's Table and Chairs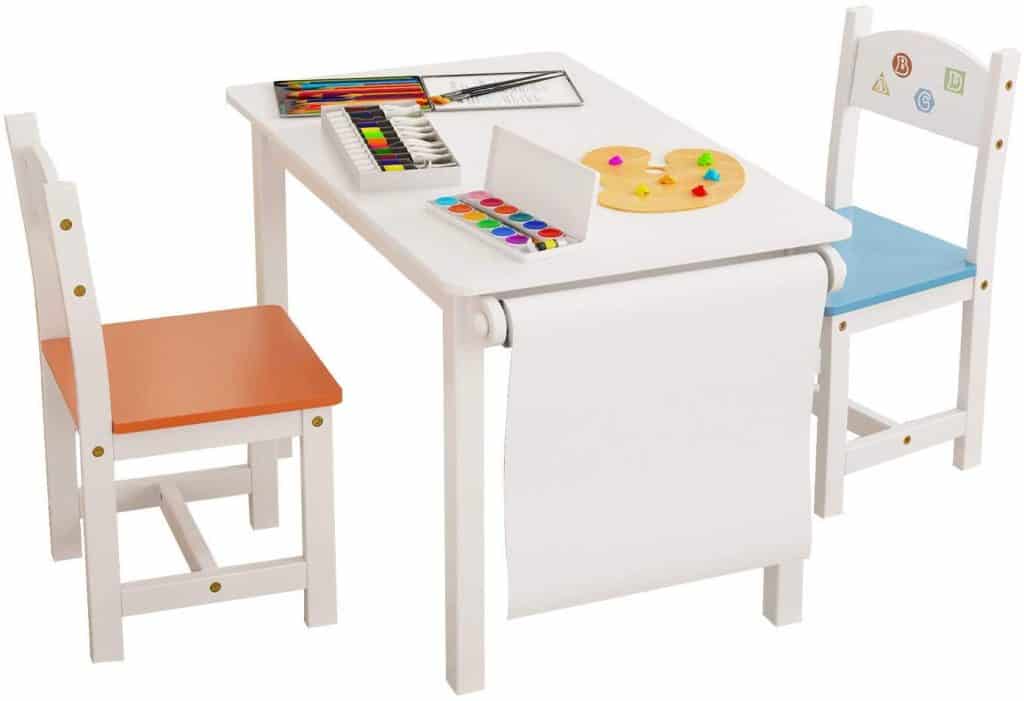 This clean and contemporary set comes with one white table and two kids chairs – one with a blue seat and one with an orange seat, perfect for families with two children. The Homfa set also comes with a drawing paper roll holder on the side of the table, great for easy access to paper to encourage art anytime. It makes for a great sturdy activity table.
Suitable for kids ages 2 to 8 years old, the table has safe rounded edges and a smooth and easy wipe surface. The chairs feature a moulded seat with a vented back for comfort. We recommend this set because not only is it attractive to both parents and children, it is a perfect size which is a perfectly kid-sized table also easy to assemble and move around. With both the chairs, there is room at the toddler table for another little person.
We found Amazon to be the cheapest for the Homfa Children's Table and Chairs.
Melissa & Doug Solid Wood Table Chairs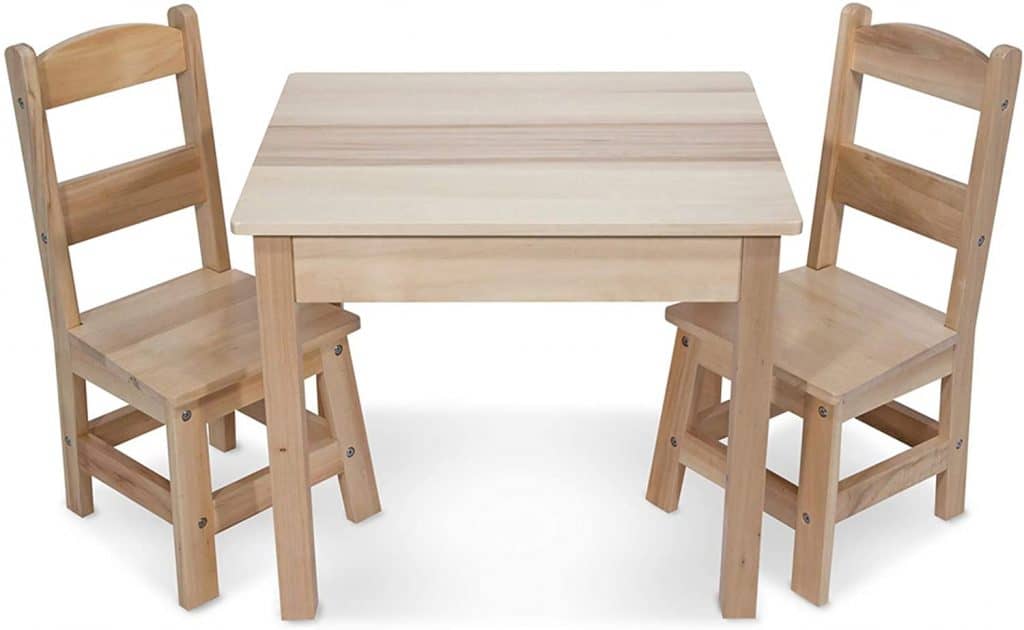 You can't go wrong with Melissa & Doug for both their quality and the design of children's tables. This expert toymaker also has a great sturdy activity table set for kids. For parents who want a simple and classic set that will last for years, this is the set for you. This is made of hardwood and comes in a natural finish that will fit seamlessly into any home. The two chairs stand 63 cm high with a 28 cm seat height, ideal for children three years old and above and are great for tea parties. These chairs are also very safe, with a reinforced tip-resistant design and a weight rating of 68 kg, much heavier than the weight of an average child and so no problem for older kids. This set is made from sturdy wood and needs to be assembled but comes with step-by-step, illustrated instructions.
We found Amazon to be the cheapest for the Melissa & Doug Solid Wood Table Chairs.
Costway Kids Table and Chairs Set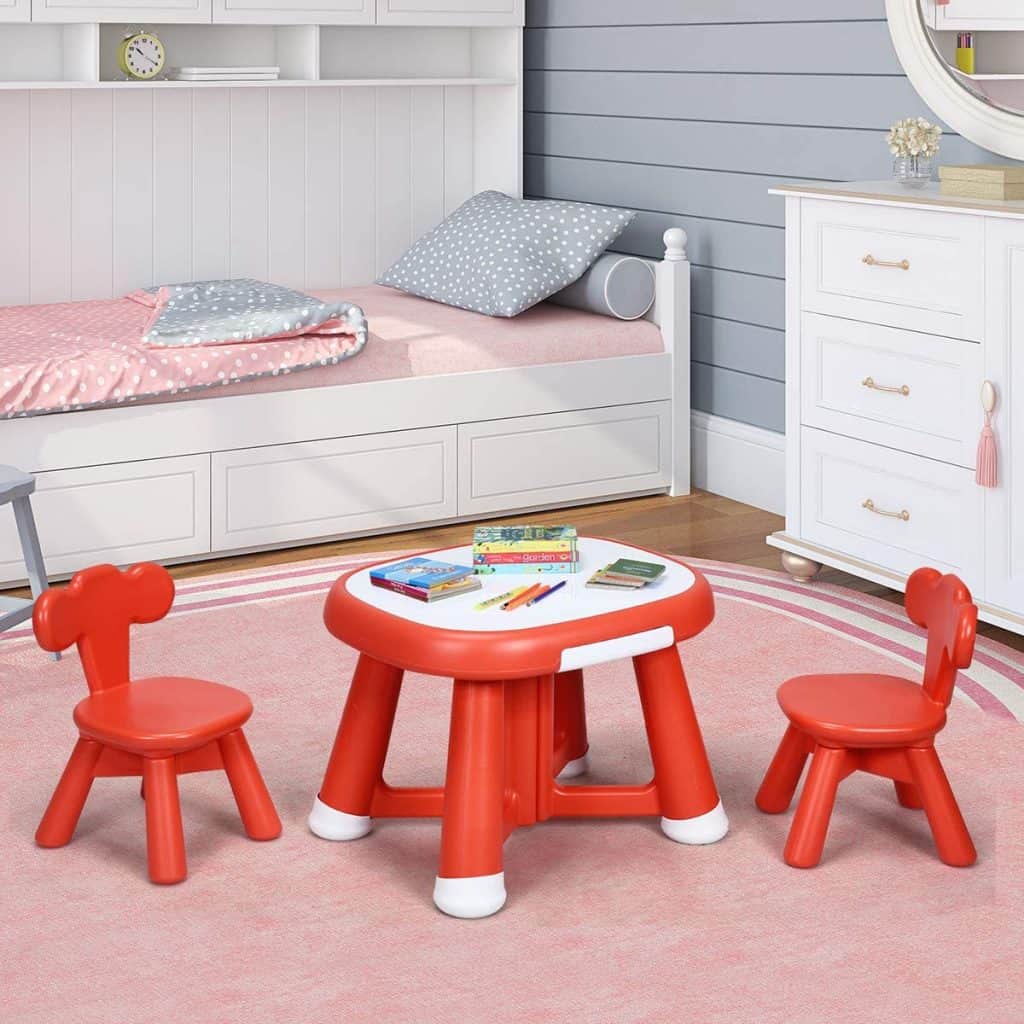 A multi-way, multi-use set will always get a thumbs up from us! The Costway table features a double-sided tabletop – one side is a chalkboard, and when you flip it over, it is a smooth white surface, perfect for writing, eating, or playing. This is almost a round table and does not have any sharp corners, and is great for creative play especially being very sturdy. The activity table and chair set also have a storage area under the tabletop for art supplies and the mass of craft supplies that children love, another plus for this design. Lego, chalk, markers, blocks, and more art supplies can be kept and easily accessed in this storage space. The two chairs also have an under the seat storage box, great for keeping small toys or art materials. It's important to note that this kid's table and chair set is on the smaller side, so your child can use it from around 2 to 5 years old and might be too small for an older child. The maximum weight load for the chair is 40 kg, while the table's maximum weight load is 10 kg.
We found Amazon to be the cheapest for the Costway Kids Table and Chair Set.
Kidkraft White Modern Table with 2 Chairs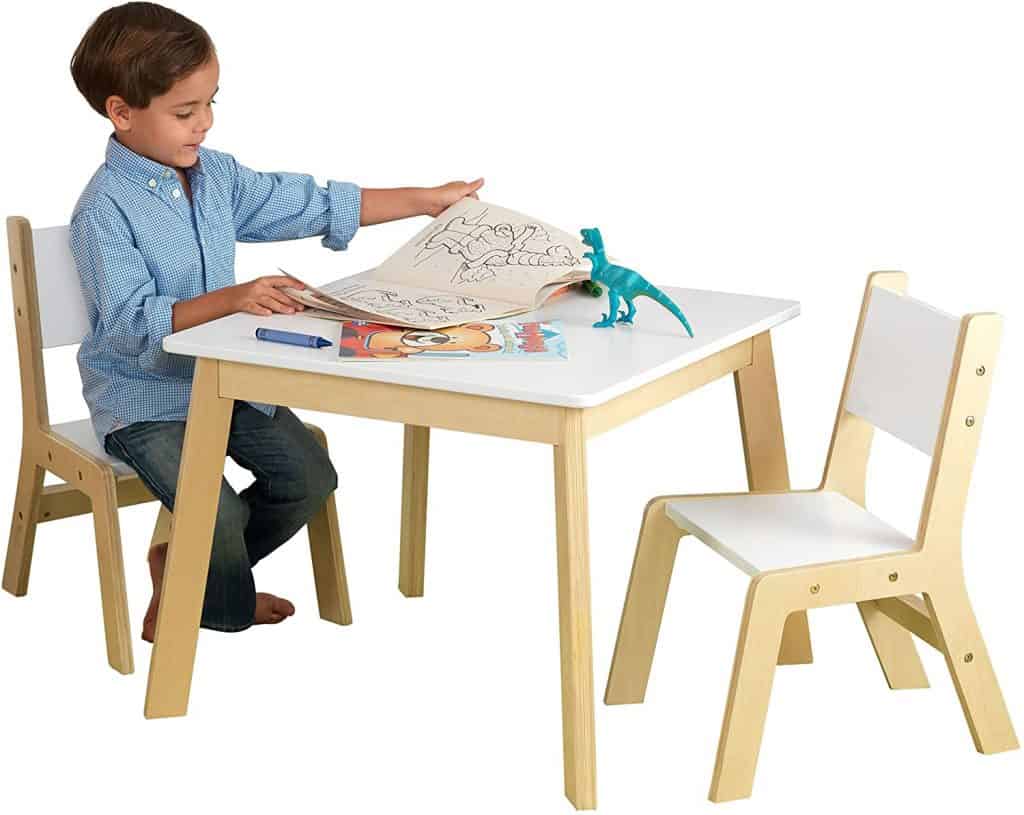 This Kidkraft set is perfect for parents who want a sleek and modern-sized table and chairs set for their home. This white and wood kids set will fit nicely into any home, whether inside a bedroom or tucked discreetly in the corner of a sitting room. This is made of a combination of wood and MDF (medium-density fiberboard), making it durable and immune to the wear and tear brought about by daily use. The smooth white tabletop is great for doing arts and crafts, colouring, or schoolwork. The chairs can carry a maximum weight of 35 kg each. This is definitely among the top of our list of toddler tables for its design and durability.
We found Amazon to be the cheapest for the Kidkraft White Modern Table with 2 Chairs.
A406 Kids Children Plastic Table and Chairs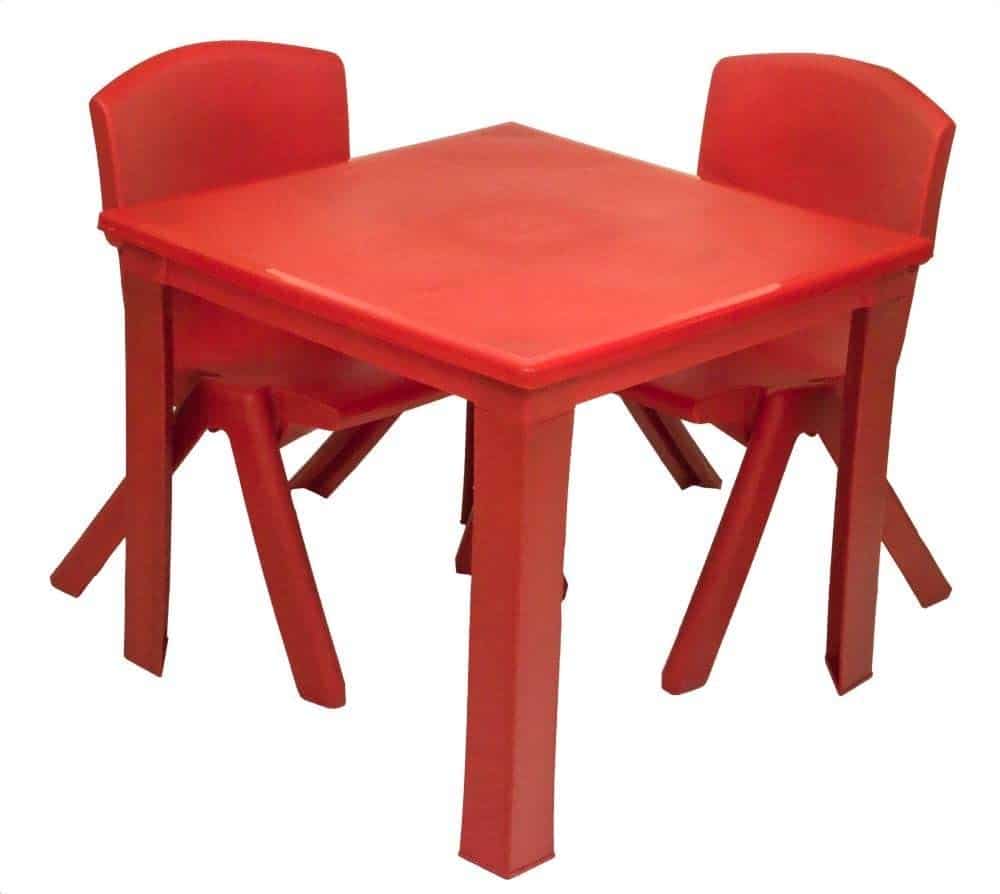 If you don't want to spend too much and just want a versatile and easy table and chair kids set, the plastic set from A406 is a great option. This kids tables set comes in 5 kid-friendly colours (blue, yellow, pink, red, or green) and can be purchased with 1 or 2 chairs, depending on how many you need. Made of durable plastic, this is easy to wipe clean, making it an excellent craft table and light enough to move around your home. Plastic toddler tables are very popular due to how durable they can be.
Leave it inside for homework or an art project, then easily carry it outside for a picnic in your yard or just for sitting at when it is snack time. The size of this set is ideal for children 3 to 5 years old.
We found Amazon to be the cheapest for the A406 Kids Children Plastic Table and Chairs.
I remember as a child having a set where the table's centre panel would come out and become a great storage place. I also remember my friends having sand tables, but I am not sure I fancy having an indoor sandpit.
Any of these kids tables will make your home life a little more organized, something everyone needs nowadays. Your children having their own workspace can also help your child become more independent, creative, and responsible.
Keeping your kids tables and chair set clean cannot be more straightforward, and using a damp or wet cloth to simply wipe clean is the best way to clean the kids tables and chair sets in tip-top shape. the
We hope you find the right kids table and chair set for you!