Helpful advice on bathing your baby?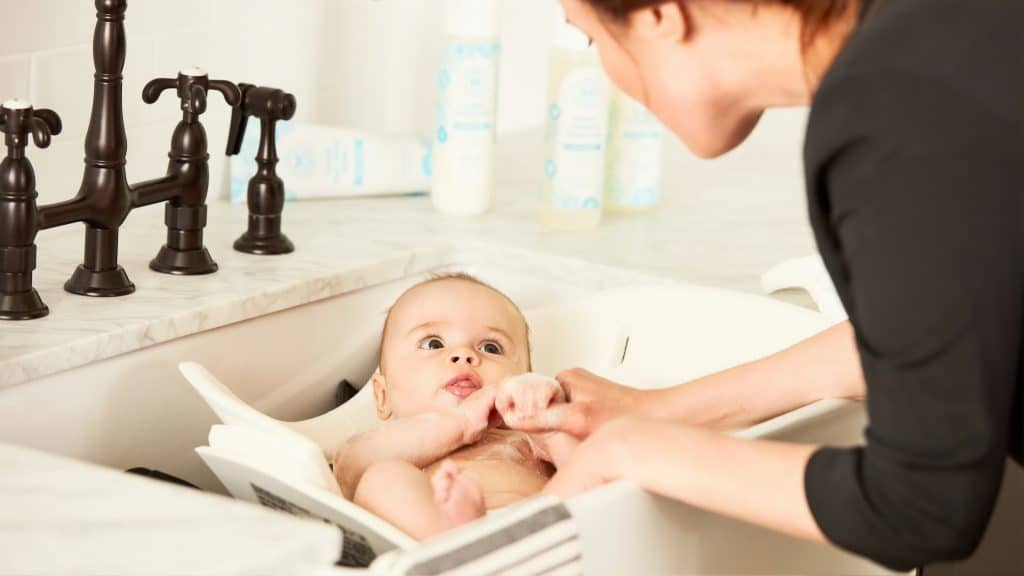 Bath Safety
Stay with your baby at all times when they're in the bath.
Mix both cold and hot water, and it needs to be warm.
Use a bath mat to prevent slipping or a bath seat when in an adult bath.
Do not put your baby in if you haven't checked the water temperature.
Bath Products to use when bathing your baby
There are various products on the market today, so whatever you choose is entirely your decision. Many go for a baby bath; however, there is always the fuss of where to put it etc. Your baby will eventually grow out of the baby bath; therefore, some people just prefer using an adult bath. Some people bathe their baby in the kitchen sink if it is big enough. It means you don't have to bend over as much.
A bath seat is handy for when your baby can sit up. Your baby is secure and is in just enough water to stay warm, and they can kick their legs around. You can take them out to let them have a lie down on their back, which most babies love.
What do you need when bathing your baby?
The best thing to do is get all the items you need beforehand, and then you aren't looking for everything while the baby is crying because they are cold. You will need a towel, baby shampoo, baby wash, cotton wool, changing mat, nappy, nappy bags, cream, baby oil or lotion, talcum powder and clothes. These are only suggestions you may not need them all, or you may not want to use things like talcum powder etc.
Bathing your baby
As well as the water being warm, the room must also be warm. You know how horrible it is to get out of a warm bath into the cold air. Make sure you add hot and cold water to make the temperature around 37°C. If using a bath seat make sure the water is up to their shoulders.
Clean your baby's face and hair before their body, so there are no soap bubbles or dirt going into their eyes. Hold the back of your baby's head and let them splash with their feet.
Your baby can have a play in the bath, and this will get them used to the water and show them that there is nothing to be afraid of. When getting them out quickly wrap them in their towel and get them dry. This is to keep them warm. Pat them gently with the towel to dry them.